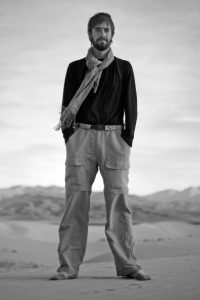 Brian Kaufman is the Executive Video Producer at the Detroit Free Press. As a one-man-band or working in small teams, Kaufman's work spans a broad range, from quick-turn daily assignments to long-term projects on social and environmental issues. Recently, Kaufman produced and directed two documentaries that premiered at the Freep Film Festival and are awaiting broader distribution.
The National Academy of Television Arts & Sciences has awarded Kaufman three Emmy awards and in 2011 nominated him in the craft category of Nature and Wildlife Cinematography. The Society of Professional Journalists in Detroit named Kaufman the 2009 Young Journalist of the Year and his work as a photographer and editor has been recognized by a number of other local and national organizations.
Kaufman's career began with a Visual Journalism degree at Brooks Institute of Photography in California and a job at the Naples Daily News in Florida, where he helped launch the first newspaper-based television newscast in the country. In 2007 Kaufman joined the Detroit Free Press, where he has been instrumental in facilitating the education of video journalism to other newspaper photographers and reporters.
In 2013, Kaufman and a team of colleagues taught journalists throughout the country how to shoot and edit video using iPhones and DSLR cameras. The Gannett initiative – dubbed #turbovideo – has dramatically increased video traffic in newsrooms nationwide. Kaufman also teaches multimedia storytelling at the Maine Media Workshops and coaches at the National Press Photographers Association's annual Immersion workshop.