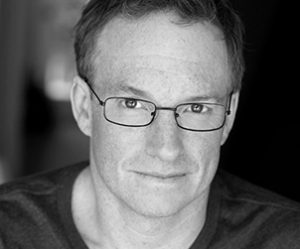 Actor and stand-up comedian Curtis Fortier was born and raised in Grand Rapids, Michigan where he honed his comedy chops sparring with the Nuns during twelve years of Catholic School, and performing with The Troupe improv group at his alma mater Michigan Tech where he received his Masters Degree in Mechanical Engineering.
After a brief stint with General Motors doing the 9 – 5, he embarked on a career as a stand-up traveling the Comedy Club circuit East to West with extended stays at The Improv in Cleveland, Connextions in Toledo, and The Funny Bone in Omaha, and two trips overseas with the group Comics on Duty to perform for troops in Afghanistan and Iraq.
As well as roles on TV and film Curtis has appeared in several plays, most memorably in "Romeo & Juliet: The Last Battlefield", a production combining Shakespeare's "Romeo & Juliet" with the original "Star Trek" series where he played the Prince of Verona/Captain Kirk character in a performance immortalized in Roger Nygard's film "Trekkies 2".
When Curtis is not appearing on TV or globetrotting with his stand-up act, he enjoys swing dancing, his comic book collection and orbital mechanics. He lives in Santa Monica, California.