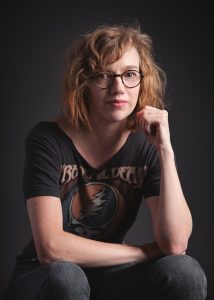 Emelie Mahdavian is an Emmy, Peabody, and Sundance Award-winning filmmaker who was selected for DOCNYC's 2020 "40 Under 40" list. Her nonfiction feature BITTERBRUSH screened at Telluride Film Festival, Doc Fortnight at the MoMA, and will be released theatrically by Magnolia Pictures in June 2022. She produced, wrote, and edited MIDNIGHT TRAVELER, which won numerous international prizes and was nominated for a Gotham Award for Best Documentary.
Emelie was previously a professional dancer. She was Assistant Director of Ballet Afsaneh and a company member of Isadora Duncan Award-nominated Wan-Chao Dance. Her dance film work has screened at museums and international festivals including the Los Angeles Craft and Folk Art Museum and Dance on Camera at Lincoln Center.
Emelie has a Ph.D. in Performance Studies with an emphasis on Film Practice as Research from the University of California, Davis. As a scholar, Emelie focuses on dance and film, often in the context of gender and cultural performance. She has published on dance performance of gender in the context of rising nationalism in Tajikistan. She often follows a "practice as research" approach in her work.