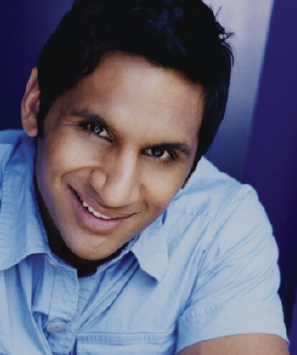 Director and Actor Ravi Patel will be presenting Meet the Patels on Friday, 10/24, 7:30 p.m. with his father, Michigan Tech Alum Vasant Patel (M.E., class of 1970). Both will participate in a Q&A following the screening.
Ravi's directoral debut is the real-life romantic comedy MEET THE PATELS, Executive Produced by Academy Award Winner Geralyn Dreyfous. The film features Ravi's family and his comedic take on a sequence of events that involve his mother and his love-life.
As an actor, Ravi is most recognized for his work on SCRUBS, IT'S ALWAYS SUNNY IN PHILADELPHIA, TRANSFORMERS, POWDER BLUE, and THE NEW NORMAL.
In 2013, he co-founded THIS BAR SAVES LIVES – with actors Ryan Devlin, Todd Grinnell, and Kristen Bell – which gives a meal to a starving child for every granola bar they sell. Ravi also co-manages an investment group which focuses primarily on health, wellness, and social enterprise startups.
Prior to joining the entertainment industry, Ravi was an investment banker and later founded the popular poker magazine ALL IN. He graduated from The University of North Carolina with double majors in Economics and International Studies. A die-hard Bears fan, he wants his own talk show, with Mike Ditka as his sidekick.